Parks & Nature
Geographic Wonders
The aesthetic beauty of Kansas, and in a microcosm, Manhattan, lies in the wide expanses of untouched natural glamor. Free alike of clutter and man-made obstacles, the allure of the Flint Hills lends its charisma in part to the vastness, serenity and solitude of the Great Plains region. Here you can experience two of Kansas' "8 Wonders" geographic areas as selected by the Kansas Sampler Foundation: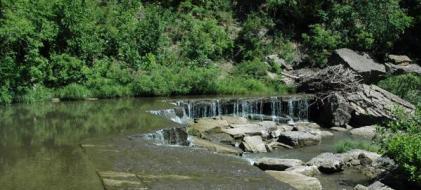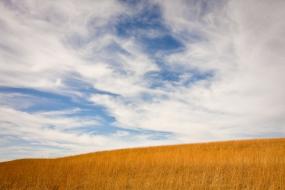 Konza Prairie
Konza Prairie public areas feature 6 glorious miles along three public hiking trails (2-4-6 mile distances) that are open daily from dawn to dusk. Wildlife beckons aplenty with deer, gamebirds and lizards among the many species that hikers may spot along the trail.

Backpacker magazine included the Konza trails in describing the top 100 day-hikes in the U.S. The trails offer hikers an up-close look at the tallgrass prairie and the wooded area of Kings Creek, as well as several scenic overlooks over vast tracts of the Flint Hills.
 
Pillsbury Crossing
Pillsbury Crossing is an iconic site that has long attracted visitors. Normal spring rains burst forth a 60-foot wide, four-foot waterfall drop and a flat, natural limestone shelf that permits easy passage across Deep Creek. Pillsbury Crossing is part of a 59-acre wildlife area managed by the Kansas Department of Wildlife and Parks. Visitors can hike trails along the crossing, wade across the creek in ankle-deep water, canoe upstream of the crossing or climb hills around the waterfall to enjoy spectacular Flint Hills views.
 
Kansas River (National Water Trail)
Locals refer to the state's primary channel simply as "the Kaw". It flows 23 miles east to reach Manhattan from its origin (confluence of Republican/Smoky Hill rivers in Junction City). The river flows another 150 miles to Kansas City and joins the mighty Missouri River. The Manhattan region has four river access points, and the river totals 18 public accesses. The Kaw was designated as a National Water Trail on July 14, 2012.
 
8 Wonders Winners