Flint Hills Discovery Center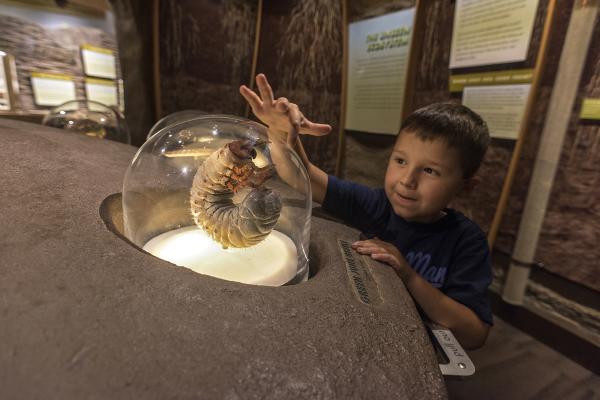 Flint Hills Discovery Center is a dynamic tribute to the 10,000 square miles of tallgrass prairie of the geologic Flint Hills that surround Manhattan. Each exhibit area within the Discovery Center has an interactive component to enrich the learning experience. Your visit starts in the Immersive Experience Theater and the multimedia "Tallgrass Prairie: Tides of Time," then head to the rooftop for a panorama view of Manhattan. Don't forget to head upstairs to see what is on exhibit this month.
 


Immersive Experience Theater 
Introductory 15-minute presentation plays several times each day included with admission. Horizon Ranch Flint Hills Immersive Experience Theater
Blue Earth Plaza
Beautiful, green park space perfect for family picnics and right outside FHDC doors. Enjoy the outdoor fireplace. Watch fountains dance, accompanied by music and lights. Both the Discovery Center and Blue Earth Plaza are available to rent. Blue Earth Plaza is home to the month-long Festival of Lights tree lighting celebration that begins the day after Thanksgiving.
Rent Flint Hills Discovery Center
Reserve Blue Earth Plaza

On Exhibit Now
Hands on Harley Davidson: Acceleration, speed, friction and gravity all play a crucial role in having your best ride! Embrace your inner engineer and learn all about Harley Davidson. Coming May 15 - September 5, 2021. 
Coming Soon to FHDC
Dinosaur Discoveries: Dive into the world of dinosaurs as this exhibit reveals how they lived, moved and behaved. Touchable fossil casts, life-size models, interactive stations and more let you explore modern day technologies. Coming September 17, 2021 - January 2, 2022.