Hiking & Trails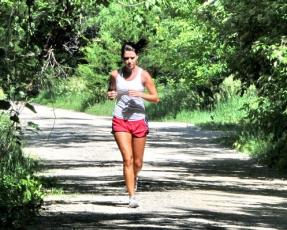 Hiking/Jogging
Anneberg Park Perimeter Trail
Partially wooded and part-shaded 1.6 mile loop around Anneberg Park, Jerry Dishman Lake and Twin Oaks Complex. Trail parallels Wildcat Creek on the southern portion. Primarily flat for walks/runs, with about half the trail on paved surface, the remainder on crushed rock.
 
Bluemont Scenic Overlook
Achieve the maximum hiking experience: make 20-acre Goodnow Park the trail origin at 4th and Thurston streets, just south of Manhattan Country Club. This short hike includes sharp incline intervals and moderate terrain changes. Takes about 15 minutes to ascend the hill and reach Manhattan lettering (Bluemont Hill), which overlooks the city's east side. Enjoy the view!
 
CiCo Park Trail
One-sixth mile flat route parallels Avery Avenue on the western perimeter of the park, stretching from Dickens Avenue (south) to Kimball Avenue (north).
 
Clarenburg Trail
Route encircles City Park, one-quarter mile on each leg of the circuit, surrounded by Fremont (north), 11th Street (east), Poyntz Avenue (south) and 14th Street (west) to total one mile. Plenty of joggers/walkers on this trail with primarily wide paths. Entire route is paved.
 
Fairmont Park
Set upon 110 acres split between city/county use of riverfront property, Fairmont includes a trail that circles the park and is devoted to walking/biking.
 
Fancy Creek Mountain Bike Trail 
Fancy Creek State Park at Tuttle Creek Lake offers 6 miles of challenging terrain this hiking trail is great for the experienced runner or hiker. Dogs are welcome on leash. 
 
Konza Prairie Trails
Three trails comprise the established hiking options at Konza Prairie with distances of 2.6, 4.6 and 6.2 miles; $2 trail fee requested; hiking only. Access from Manhattan via McDowell Creek Road, and drive south 8 miles.
Bicycles, motorcycles, ATVs are not permitted on Konza trails. Pets also strictly prohibited.
 
Hudson Trail
Just west of CiCo Park on Kimball Avenue, paved trail stretches along eastern edge of Colbert Hills Golf Course and continues just beyond Kauffman Drive, at which point the paved trail transitions to natural hiking area. Few steep inclines included; for hikers that pick up the trail at Kimball and proceed north, the one-mile trail intersects with Washington Marlatt Park on the city's north edge. Five trail options will lead hikers to Marlatt Avenue, just west of Seth Child Road.
 
Northeast Community Park Trail
2-mile walking trail encircles 79-acre park, one mile north of Highway 24, accessible via Allen Road/Knox Lane via Tuttle Creek Boulevard.
 
Linear Park
Hikers-bikers follow a picturesque path from Anneberg Park back to Manhattan's east side and Northeast Community Park along Knox Lane (9+ miles). For more information, download this Linear Park Trail map.
 
Randolph State Park
Trails at Randolph State Park cover 200 acres, including camping areas. The trail loops at Carnahan Park are 5 and 8 miles in length and offer dramatic scenery of the lake. For more information, download the Tuttle Creek State Park map.
 
Warner Park trails
A number of trails exist within the large 82-acre Warner Park, including a trail known as "Eight Weeks Trail" that was developed by the Park Conservation Crew on the west side of the park. On the southeast edges of the park is a trail that matches the path of a Fort Riley-Fort Leavenworth trail used by the U.S. Cavalry.
 
Washington Marlatt Park trails
Half-dozen trail options exist within Marlatt Park, and two more trails lead to Top of the World scenic overlook off of Seth Child Road/Highway 113.
 
Western Heritage Trail
3-mile loop follows the Big Blue River from Dyer Road Bridge to Rocky Ford camping/fishing area and ultimately to Tuttle Creek Park Beach Drive, all along Big Blue river banks. Rocky Ford was used as a river crossing by pioneers and military for many years. Rocky Ford Outdoor Recreation Area

Some trails may be affected by increased regional water levels and releases from Tuttle Creek Reservoir. Manhattan Parks & Rec maintains this updated list.
 
Equestrian
Tuttle Creek Lake currently has two separate horse trails on the east side of the lake. Horse lovers enjoy a ride on the equestrian trails in Randolph State Park or Carnahan Park.
 
Randolph State Park
The trails at Randolph State Park cover 200 acres, including camping areas. The trail loops at Carnahan Park are 5 and 8 miles in length and offer dramatic scenery of the lake. Tuttle Creek State Park map.

Water
Kansas River Trail
One of the world's longest prairie rivers (173 miles) is the Kansas River ecosystem, which offers great opportunities to explore eastern Kansas. Viewing north-central Kansas' raw beauty from the waters on canoe or kayak presents a whole new perspective. Kansas River Trail