Johnny Kaw Plaza
Legendary farmer holds lofty status with landmark presence in City Park
When you've got a 25-foot statue dedicated in City Park, you're a pretty big deal. Such is the tribute to a Midwest legend of these parts, mighty Johnny Kaw. Some say he's myth; whole lotta tantalizing tales about this formidable farmer, though. His deeds (Kaw spread sunflowers statewide) have grown substantially since early Kansas settlers, the legend passed down among the Kanza Indian tribe, Goodnows and original Manhattan pioneers and through to Flint Hills ranchers.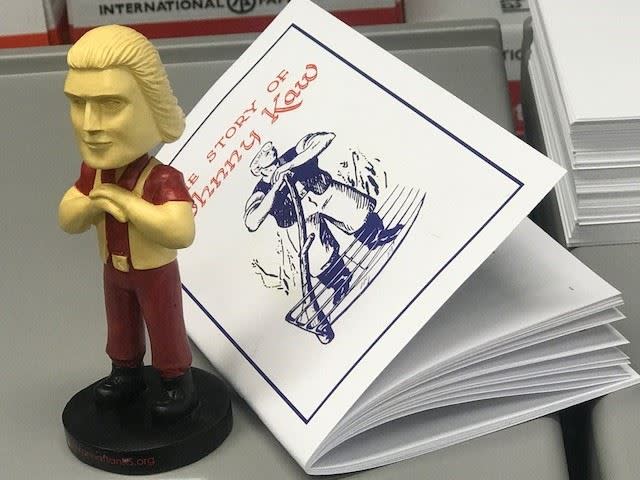 Johnny Kaw's next celebration will surround unveiling the plaza expansion and statue refurbishment on September 20, 2019. Stay tuned for details!
Kaw Legend
Exact details on Johnny Kaw's sizable feats include massing piles of Grand Canyon excavation from Arizona to create the rising Rockies. The Legend of Johnny Kaw looms large around Manhattan, even named a bar after him in the Aggieville entertainment district. You could say his entourage is ever expanding. 
Yep, he roamed these parts with some wild critters, too. Twisted off the tops of funnel clouds leaving only the rain for the fields. He's depicted with massive scythe, which he used to harvest acres of wheat in single thrashes. Heck, Johnny even carved out the Kansas River Valley for farmers 'round here. Johnny's a true pal.
Kaw Statue
The statue has had its own spot in City Park ever since 1966. Originally crafted through stories that celebrated Manhattan's centennial celebration of 1955, Kaw's legend morphed into the $7,000 statue at 11th & Poyntz. Community Johnny Kaw Boosters expected the local legend to become a bona fide tourist attraction, and present day Friends of Johnny Kaw have worked to renovate the park area into a plaza-type attraction.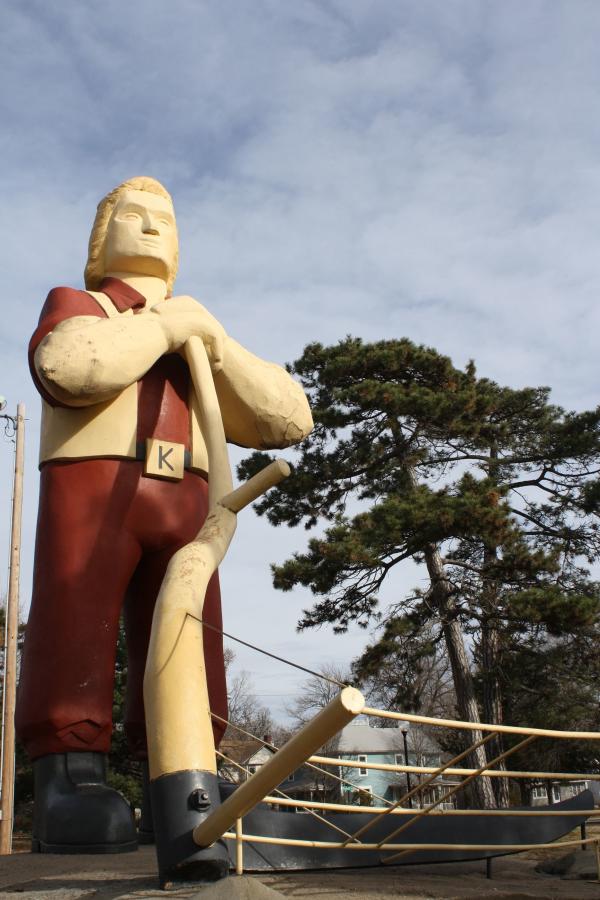 Help the cause
Johnny Kaw Bobbleheads may be purchased ($15) as part of the fundraising effort, and you automatically become a Johnny Kaw Club member. Chamber office, 501 Poyntz Ave., Manhattan, Kansas. Additional locations include Flint Hills Discovery Center, Sunset Zoo and Johnny Kaw's Aggieville bar (1218 Moro St.)