Biking
Manhattan and Kansas State University are both recognized as a bronze-level, bicycle friendly community and university, respectively, by the League of American Bicyclists. MHK features an expanding network of bike lanes, boulevards and trails. This makes for fun, relaxing and exercising rides throughout the city and on the outskirts of the city.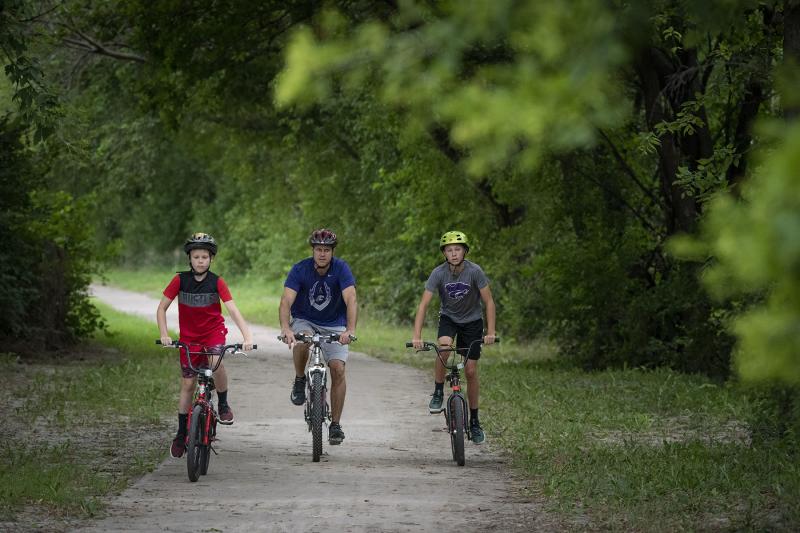 Access point for this mountain bike trail is the U.S. Highway 24-Blue River trailhead off the west bank of the Big Blue River, in the northeast section of Manhattan. Go south on Linear Trail for about 75 yards, and the trail proceeds for 5.5 miles along the river. Packed surface through wooded area with switchbacks, drops, a few jumps and challenging obstacles along the trail.

Fancy Creek State Park at Tuttle Creek Lake offers 6 miles of challenging terrain, one of Kansas' best mountain bike trails.

1-mile bike trail on city's western side, near CiCo Park.

Linear Trail takes bikers along picturesque path from west side's Anneberg Park, back to the city's east side and Northeast Community Park along Knox Lane.
The bike share program is a popular service for Manhattan visitors to provide random transportation around the city. Bikes are 1-speed beach cruisers, and the predominantly green-colored bicycles are found at 9 GAB racks spread around the city. Simply return the GAB to any of the locations, and...
Rent a LINK E-Scooter to get around town. Find a scooter to rent at any of the designated scooter parking areas.