Manhattan's unique landscape of the Flint Hills makes for the perfect spot to enjoy your favorite outdoor activities. Go for adventures in Manhattan and enjoy activities like hiking, biking, golfing and paddling.

Bike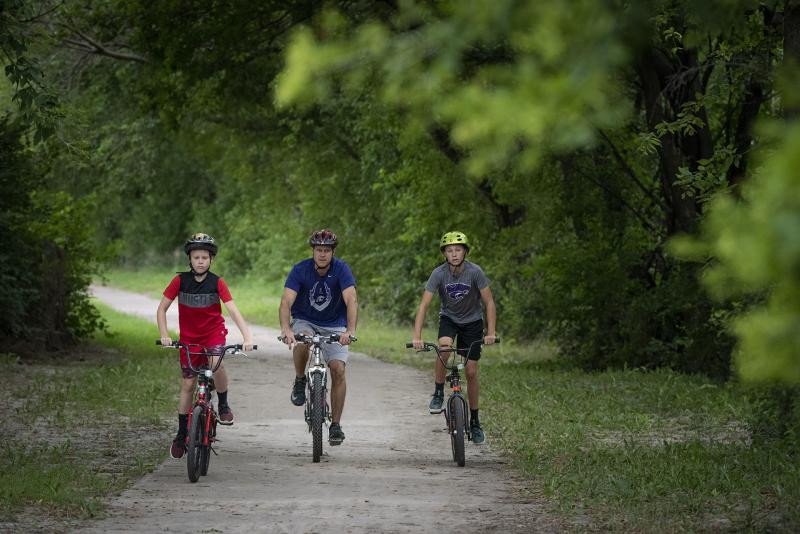 Grab your bike and a water bottle and enjoy one of the many trails Manhattan has to offer. Manhattan and Kansas State University are both recognized as bronze-level bicycle friendly community and university, by the League of American Bicyclists.
Big Blue River Trail is a 5.5 mile trail along the river. The packed surface through wooded area with switchbacks, drops a few jumps and challenging obstacles along the trail make for an exciting adventure.
Fancy Creek State Park at Tuttle Creek Lake offers 6 miles of challenging terrain, one of Kansas's best mountain bike trails.
Hudson Trail is a 1 mile bike trail near Cico Park, perfect for the beginner or a young family.
Linear Trail takes bikers along a picturesque path from west side's Annenberg Park, back to the city's east side and Northeast Community Park along Knox Lane.
Learn more about biking in Manhattan.
Hike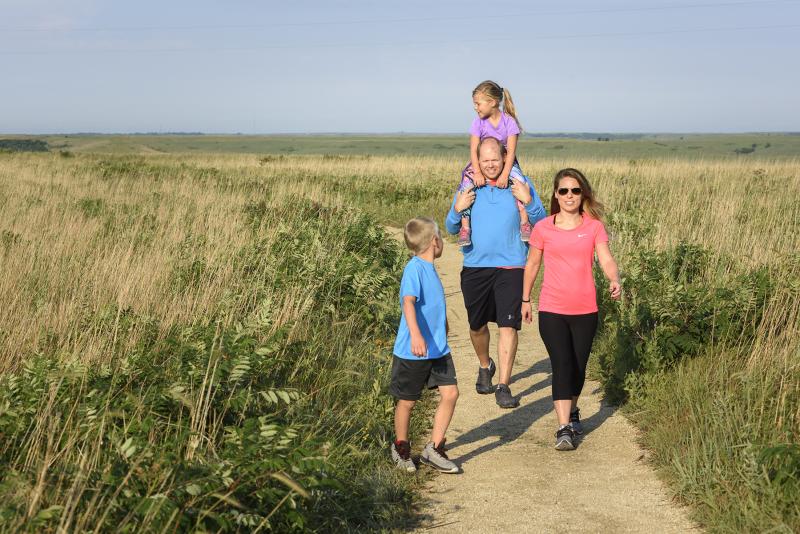 Lace up a pair of sneakers and grab the family to go for a hike in one of Manhattan's parks or on the trails. The rolling hills will keep you in awe as you walk the trails.
Parks that you can bring your dog on leash include; Anneberg Park Perimeter Trail, Bluemont Scenic Overlook, Cico Park Trail, Clarenburg Trail, Fancy Creek Mountain Bike Trail, Hudson Trail, Northeast Community Park Trail, Linear Park, Randolph State Park, Warner Park Trails, Washington Marlatt Park Trails  and Western Heritage Trail. Find all of the trails here. 
The Konza Prairie has multiple trails with lengths of 2.6, 4.6 and 6.2 miles. The trail allows hikers to view the scenic Flint Hills. Dogs are not permitted nor are bicycles, motorcycles or ATVs and swimming in the creek is not allowed, be sure to stay on the path as the Konza is a research facility.  
Learn more about hiking in Manhattan. 
Golf

The terrain of the Flint Hills region offers superb panoramas to excite both the occasional golfer and hard-core, scratch player. Manhattan offers four unique courses for a plethora of play-ability from any golfer's skillset.
Colbert Hills Golf Course is a PGA-licensed collegiate facility the features 18 holes of Flint Hills landscape.
Manhattan Country Club is a 100 year old course that plays quickly with tight tree-lined fairways. Its location near the university makes it a unique place to play.
Stagg Hill Golf Course is a municipal course alongside the Kansas River that has several challenging holes.
Wildcat Fitness & Fun is an executive 9-hole course within Anneberg Park with three par-4 holes. If you are just looking for an afternoon of fun for everyone, they also offer mini golf and foot golf.
Learn more about golfing in Manhattan. For information on disc golf visit here. 
 
Paddle - kayak, canoes, and stand-up paddle boards (SUP) 

Boat, paddle, life jacket, food, water, sunscreen and a first aid kit are all the things you need if you are a paddler looking to hit the water.
If you're a beginner at paddling check out places like the Tuttle River Pond or Pottawatomie State Lake 1 or 2. These bodies of water are usually calm, and will allow you to get on and off the water in the same place and you can spend as little or as long as you want on the water.
More experienced paddlers can check out the North part of Tuttle Creek Lake or the Kansas (Kaw) River for a challenging paddling experience. Be sure to visit here to learn where to drop your kayak in.
Learn more about paddling in Manhattan.
Fish

If you enjoy reeling in a big one on your line, Manhattan has several spots for you to catch a big fish! 
If you're looking to catch a big fish like channel catfish, crappie and large mouth bass head to Tuttle Creek State Park and pick from several fishing spots like, Tuttle Creek River Pond, Willow Lake and Tuttle Creek Lake that features more than 10,000 acres of water. 
Other great spots to throw in your line include; Pottawatomie Lake 1 and 2, and Jerry Dishman Lake. 
Learn more about fishing in Manhattan.
Manhattan is an outdoor enthusiast's paradise with a plethora of outdoor activity options. What is your favorite way to get outside and get moving?