Get ready for your Instagram feed to be filled with sunflowers, as sunflower season is almost here! Not sure where to go to get sunflower pictures or the best way to take those pictures? We have all your answers and a little bit of sunflower history for you!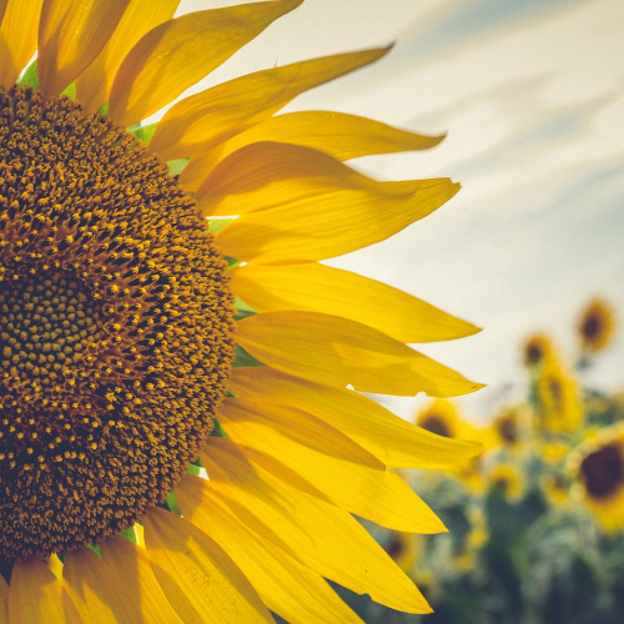 Photography tips:
Good pictures don't have to be complicated and you don't need a fancy camera. Find our tips for sunflower photography below. 
1. Explore perspectives and take the picture from a lower angle. This gives the illusion that you're truly surrounded by sunflowers.
2. Take pictures an hour after sunrise or an hour before sunset. These give your photos the perfect golden hour lighting.
3. Dress for the outdoor occasion. The field will likely be dusty or muddy good footwear is essential.
4. Get close and capture the intricate details of the sunflower.
Where to find sunflowers
Sunflowers typically bloom sometime between Mid-August thru Mid-September in Kansas. Each farm will be a little bit different, be sure to follow them on Facebook for updates.
A and H Farm is a fourth-generation family farm located in the southern part of Manhattan. This year their sunflower field will be bigger than ever with over 200,000 sunflowers planted all throughout the farm! Be sure to purchase admission for this fun opportunity. Plus their brand new mural features beautiful sunflowers right out front and is free for all to admire and photograph. A & H Farm will likely open their sunflower field around early to mid-September. Keep up with them on Facebook for the official opening date of their sunflower field and a highly anticipated sunflower-themed event! 
 
Britt's Farm is a family-owned and operated produce farm on the west side of Manhattan. The farm features a huge field of sunflowers 20 acres with paths cut into the field! Be sure to stop by the farm store to purchase your admission to the field. Britt's Farm will open their sunflower fields around August 30, keep up with them on Facebook for official dates. 
The beautiful flowers do not last long typically two weeks tops! Fields are planted at different times and this will affect when each field blooms. Be sure to like each farm's page and look for their announcement on when their field will open. 
NOTE: Fields range from private to public throughout Kansas, so please be respectful of the fields and research before you head out with a camera. 
Sunflower History: 
#DYK Johnny Kaw invented sunflowers or so the tale goes. 
We can thank Johnny Kaw for giving us such a beautiful state flower. One day, Johnny had an idea. Knowing that sunshine was necessary for plant growth, Johnny spent an afternoon collecting the precious light. Johnny then dipped dandelion roots into his jars of sunshine and planted the roots in neat rows along the Kansas River. When Johnny returned the next day to investigate the results of his experiments, he was amazed to find the new plants were taller than him. He named his creation the sunflower which is now the official state flower of Kansas. 

Find stories like this in front of Johnny Kaw's statue in Manhattan City Park.