If you're looking for a burger the state of Kansas is the place to be. In fact, in Kansas, cattle out number humans 2:1! Manhattan has tons of places to grab a quick burger meal or sit down and enjoy a cold one with your burger. Find all your Manhattan burger options below.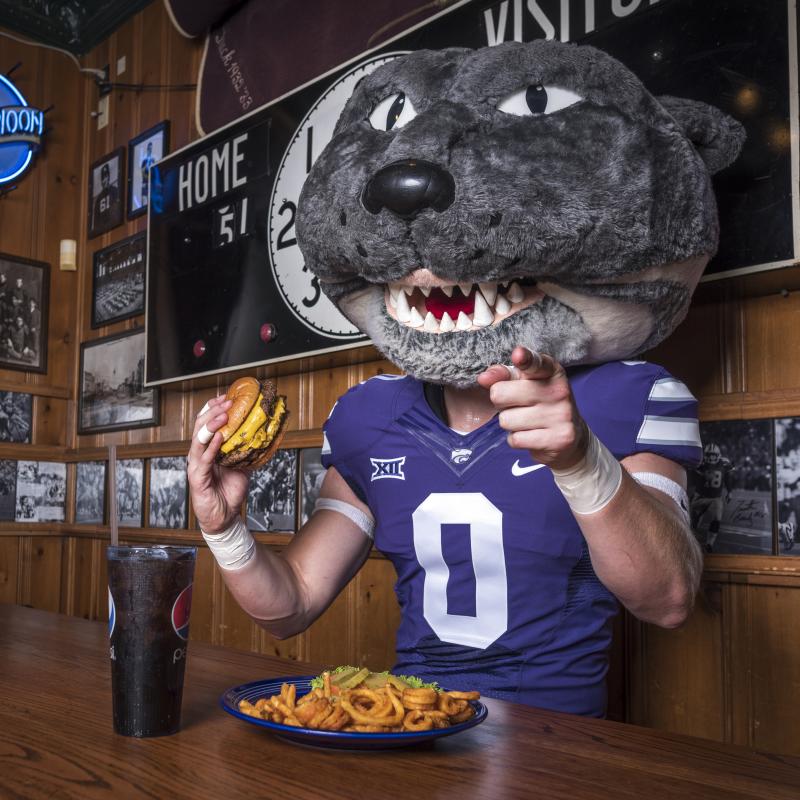 To Go Options
Looking for that quick and easy burger option that is ready when you are? Try any of these three Manhattan classics: 
At Vista Drive In, located on Tuttle Creek Boulevard, go with one of their well-known burgers like the Vista Burger or opt for something unique like the Royal Burger. With either option you will be satisfied. Don't miss out on their hot fudge brownie a la mode to finish off your meal. 
Also on Tuttle Creek Boulevard you can find Ana's Burger Shack. Enjoy locally purchased meat ground fresh daily. It's a build your own burger kind of place with a list of burger sizes and the various toppings you can add, the options are endless. Their milkshakes are great too! 
New to Aggieville is Fat Shack. They serve up 100% Angus beef in three sizes, the single, classic and supreme with the typical fixings all on a brioche bun. Don't miss out on their fair-food-like desserts of deep-fried Oreos, chocolate chip cookies or funnel cake bites. 
Dining In Options
If you want a sit down option, Manhattan is your place. We have more than 9 options for you to choose from, from downtown Manhattan to the west side and many places in between. 
Tallgrass Taphouse in downtown Manhattan serves up the Tallgrass Burger. The Tallgrass burger is made with black Angus beef, bleu cheese, bacon, fried onion strings, arugula, smoked tomato aioli and a potato bun. Goes great with one of their beers on tap! 
Powercat Sports Grill on the west side of town has 10 burger options from the Mac Daddy with southern-style fried mac and cheese nuggets and chopped bacon or go for something more classic like the Bud's Bacon that comes with smoked bacon, pepper jack and cheddar on a butter-toasted brioche bun. Powercat Sports Grill is also the place to watch your favorite sports. 
Enjoy the west side of town and visit Little Apple Brewing Company, they have three burger options. Their Brewhouse Burger is made with their signature Certified Angus Beef and don't miss out on their bacon cheddar burger. 
Wine Dive and Kitchen in downtown Manhattan has a burger for you to enjoy. Their burger is 8oz of Creekstone Farm ground beef hand mixed with bacon, served with caramelized onions and roasted garlic jam, gruyere cheese and dijon aioli on a brioche bun. They also have a vegan option of a black bean burger. Pair these with their sweet potato fries with truffle oil and you are sure to be in burger heaven.

Mr. K's on the north-west side of town offers their K's Bacon & Cheese Pub Burger. The burger is made with 6oz Angus beef served with muenster cheese & cheddar and two crunchy bacon strips. It would go great with one of their cookie bake desserts.

Adjacent to the Holiday Inn at Campus is Houlihan's Restaurants and Bar. Here you can find three burgers; The Kansas City Burger, Houlihan's Burger and the Impossible Burger. Be sure to check their website as they often have happy hours that include more than just drinks!
 
Head to Aggieville to experience a long time favorite, Kite's Bar and Grill. They have six burger options including the bacon cheddar burger, braet burger, hangover burger, the big Kiter, Wildcat burger and the original Kiter. Here you will feel the K-State Wildcat spirit with sports paraphernalia all around. 
So Long Saloon is known for their peanut butter burger topped with you guessed it, peanut butter. This burger is also served with pickles sriracha, bacon & pepper jack cheese on a brioche bun. This burger goes down great with a Nancy for those 21 or older. If you are up for trying more out of the ordinary flavors they serve a burger with pineapple and BBQ or one topped with chili! They have six other classic options for you as well.
 
Tanner's Bar and Grill in the 'Ville fondly refers to their burgers as "boogas." They have all your favorites like a booga topped with KC BBQ or their bleu bacon booga. Don't miss out on their unique booga options like the Maui Waui or Fajita booga. This is a great place to take in the atmosphere of Aggieville.  
Manhattan has tons of options for you to enjoy a nice juicy burger, whether you are looking for something quick like Vista Drive In or want to experience the Aggieville atmosphere at Kites, Manhattan has many offerings. Where's your favorite place to enjoy a burger in Manhattan?