Liquid Art Winery and Estate
An ideal vineyard affords visitors an escape. An escape from reality, virtually. Liquid Art Winery and Estate presents visitors with just such an escape in the Flint Hills of northeast Kansas. Visitors, it's an easy 2-mile drive off Scenic Road in west Manhattan. The escape? Palpable.
Like being whisked to a Tuscan villa; breeze-swept Bordeaux Region of France; ocean-drenched, sun splashed Napa Valley. Liquid Art Winery and Estate was the formation of a K-State couple's far-flung dreams and unwillingness to be denied in the pursuit of those dreams.
Have a seat in the Tasting Room or outside around one of the venue's mesmerizing fire pits. Sip on a flight of four wines or ciders. Enjoy a beautiful Kansas sunset.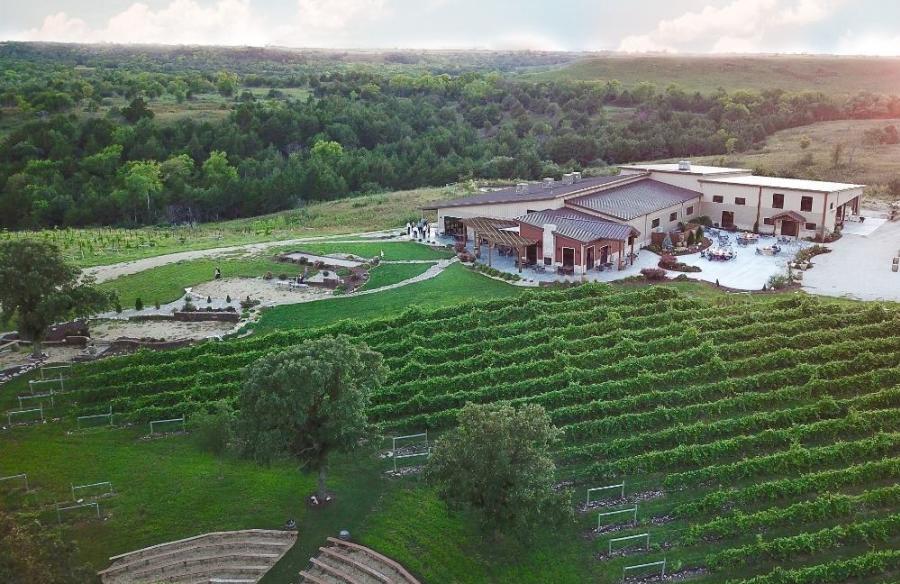 Also produced onsite and served in the Tasting Room: Dave and Dani Craft Cider. Liquid Art test taps consist of seven experimental ciders on frequent rotation at the winery. In addition to test taps, six bottled craft ciders: Apple, Apple Pie, Cherry Limeade, Cranberry Hopped and Hopped. 
Looking to stop at multiple wineries throughout Kansas? Check out the North Central Wine Trail that includes Liquid Art Winery.
Kansas Winery Trail